Welfare Hall "Green Club"
Negami Chemical Industrial Co.,Ltd think that we can generate large-scaled idea and cultivate humanity through nurturing of human resources that can support the company.
We think we can produce high growth of the company and staff members by using our time well at work as well as outside of work.
Green club was completed on November, 1984 based on this idea.
Company cafeteria
Meals are free to refill from the daily menu. It's time to eat a lot and nourish your spirit.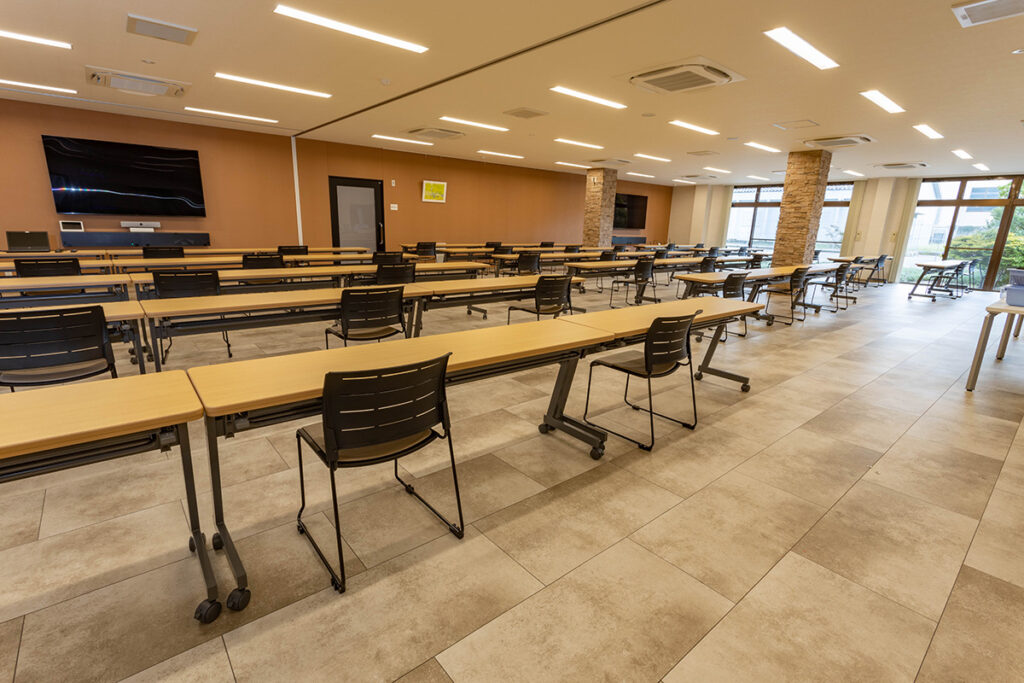 Bathroom, Training Room, Relaxation Room
Training and bathing are also possible after work.
The training room is equipped with running machines and strength training equipment.
The relaxation room is free to use and you can spend a relaxing time drinking coffee and chatting.
Overseas training for its employees
Negami Chemical conducts overseas employee training. The creative imagination that supports Negami Chemical is also cultivated from such places.
Past Destinations/Cebu Island,Hawai, Australia, Singapore, Seoul, Taiwan
Lending of work clothes twice a year. (Winter clothes and summer clothes.)
Provision of work shoes.
We provide rent subsidies to employees who meet the requirements set by the company working at the head office and Fukui Factory.
Daily menus are available at low prices.
Free personal burden
Travel and leisure, sports, gourmet, shopping, childcare, health, self-development, etc.
A variety of services are available.
Smaller Enterprise Retirement Allowance Mutual Aid System Defined Contribution Plan
GLTD(Group Long Term Disability)
Group Insurance System
Asset Savings System
For employees who have been with the company for more than three years
Wedding gifts, birth gifts, birthday gifts, children's entrance gifts, incense, etc.
Social insurance schemes (Health Insurance・Welfare Pension Insurance・Employment insurance・Workers' compensation insurance)
Childbearing leave program,Care leave system
Golf membership available
Tea heater,Water server
Measures against heat stroke (Provision of sports drinks, salt candy, and ice cream)
Separation of smoking areas